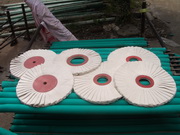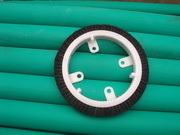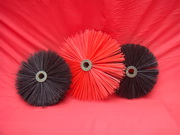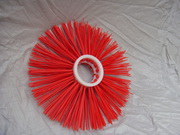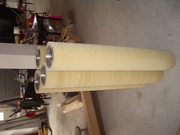 PPN bristle Material
Range of thicknesses
Cut to any length
Roller impressed with different patterns
A full range of colours available
Black is a lower price
Recycled material but of a good quality.
Tensioned to make the bristle hard.
Soft bristles also available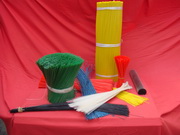 News
China industrial brush moves into the production of brushes for use in silicon chip manufacture.

A large sweeper manufacturer that does not wish to be named has started its production of cassettes in our factory cancelling a 14 year long production in America due to needed cost reductions.
The manufacture of all PPN rings is ramping up with the addition of zigzag rings to the straight ones. A number of sweeper manufacturers had expressed a need in spite of the increased cost for all plastic instead of metal ring with plastic or steel bristles. A problem still exists in this area as? mixing all steel and all plastic rings leads to some abrasion. No plastic ring manufacturer has been able to set steel wire bristles in plastic successfully so far. Also the claim that all plastic is as good as using a steel mixture has not proven reliable.

China industrial brush has added large scale steel mill brushes to its range of industrial brushes with a major Chinese contract.
Due to continuous requests from brush makers around the world China Industrial Brush has decided to release its high quality PPN bristle to manufacturers in other countries. Six years of technical development have lead to a very hard wearing and tough product for the brush manufacturer. The bristles are now available in 20¡¯ container loads with a lead time of 20 days.